I attended the Gluten Free Allergy Fest in San Diego this past weekend. And… WOW… did I find some wonderful new products to share with all of you. Fabulous gluten free pastas and beer. Interesting meat alternatives using nuts. And some amazing  protein bars.
Keep reading below to see this week's special offered to you by DNA Bars. (that stands for Day, Night, Anytime Bar). What a treat these bars are!

I had the pleasure of meeting Brian, the creator of the DNA Bar this weekend at the Gluten Allergy Fest. Likewise, it was a great pleasure to taste his fabulous HIGH PROTEIN bars with no junk ingredients!  These bars are free from gluten, dairy, corn, soy and refined sugar! Totally guilt free and good for you.
All of the ingredients in DNA Bars are Non-GMO and most igredients are organic. He uses fresh pumpkin, sweet potatoes, coconut, Granny Smith apples, and eggs to create a delicious fresh protein bar. What I appreciate most is that everything is hand-blended, not whipped by a machine. Each bar is handmade locally in Los Angeles and they're designed to be fresh and moist.
DNA Bars are available in three flavors: Chocolate Coconut Fudge, Green Apple Cinnamon, and Triple Chocolate with Quiona (my fav can you hear me sigh?).  Each bar has a whopping 14 grams of protein and the sweetener they use is Birch Xylitol. Why is that important to know? Most Xylitol is made from corn and is most likely genetically modified. Birch Xylitol is non GMO!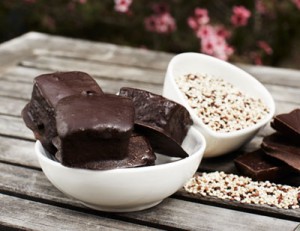 My favorite Bar (pictured here) is the Triple Chocolate with Quinoa. The Mind Blower is what they called it at the Gluten Allergy Fest.  I can see why. If you like dark chocolate then you will love this. Three different kinds of chocolates are blended together to create this heavenly bar.  Organic roasted quinoa is added to the mix giving it 14 grams of high quality protein, (especially valuable for those challenged with getting enough protein) only 2 grams of sugar (from Lou Han) and ingredible healthy fats from organic coconut and organic almonds.
Brian is offering a special for my blog readers!  Enjoy at 10% discount through the end of July 2014 by ordering on line. Use coupon code karenrothdna at checkout. You will not be disappointed. Here is the website  www.dnabars.com
Okay, I'm done.  I need to go finish my DNA bar!
Comments
comments