NUTRITIONIST SAN DIEGO KAREN ROTH
Karen Roth Nutrition is based in the San Diego area with offices in Carlsbad, Sorrento Valley and Mission Valley. For clients outside the area, Karen works remotely via Phone, FaceTime and Skype.
As a Holistic Nutritionist / Certified Nutrition Consultant, Karen Roth, MS, CNC considers the whole person when addressing any health concerns.
Karen shares her knowledge to empower her clients to take control of their health with food and lifestyle choices that best support their specific health condition. She is a believer that every ill health condition can benefit and possibly improve from a solid foundation of healthy foods.
Karen specializes in helping women and men of all ages restore Hormonal Balance the natural way, without pharmaceuticals. The holistic model she follows has been helping individuals for over 20 years. It's simple, easy and most importantly, effective. Over the years, Karen has helped literally hundreds of people improve their health, well being, and quality of life.
Specialties
Diabetes Issues
High Blood Pressure
High Cholesterol
Auto-Immune Disorders
Low Libido
Blood Chemistry Analysis
Gluten Intolerance
High Cholesterol
Digestive Issues
Acne Problems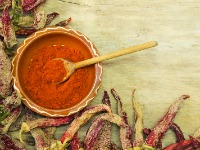 A popular ingredient for giving a kick to salsa and other dishes, Cayenne has numerous health benefits including reducing blood cholesterol and triglyceride levels, reducing pain and inflammation, providing relief for heartburn, moderating blood sugar level, and helping to break down carbohydrates Read More | Share it now!
read more
Karen Roth, MS, CNC
Karen Roth, MS, CNC holds a Masters of Science Degree in Holistic Nutrition from Hawthorn University. She earned her undergraduate degree from UC Irvine. Karen shares her knowledge to empower her clients to take control of their health with food choices that best support their specific health condition.






Karen Roth Nutrition
4010 Sorrento Valley Blvd, #400
San Diego, CA 92121
(858) 255-4576