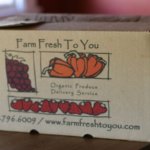 As people are becoming increasingly interested about where their food comes from and how it was grown, Community Supported Agriculture (CSA) is becoming a popular alternative for getting high quality food from a trusted local farm. Currently over 6,000 families are participating in the family farm's CSA, Farm Fresh To You. By joining our CSA these families are connecting directly to the farm and receiving regular deliveries of nutrient rich, mouth watering, organic produce delivered directly to their home or office.
Customer Friendly, Flexible, Convenient
Cancel Anytime – No Commitment
Home Delivery – Delivered directly to your home weekly, every other week, or monthly
Customize your delivery – exclude items you do not like and add extra of items you do
Receive deliveries starting at only $25.00 per delivery
Satisfaction guaranteed
Speak with friendly customer service Monday-Friday 8am-5pm
Delivery available to the Bay, Sacramento and Los Angeles Areas
SAVE $5 on your first order!
You can receive $5 off your first order by using Promo Code P4792 and entering my name and account number, KAREN ROTH 117172, in the box "how did you hear of us."   Once you are signed up, you can then earn credits towards produce for yourself by referring friends and family!