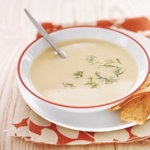 Ingredients:
2 TBS extra virgin olive oil
4 large leeks, well rinsed and thinly sliced. Use only the white and light green parts
5 cups low-sodium vegetable broth
1 large potato, peeled and diced
2 tsp chopped fresh tarragon
1 cup low fat Greek yogurt
1 tsp sea salt (Real Salt if you can find it in your store)
Pepper for taste
Fresh grated Parmesan cheese for topping
Using a large sauce pan, heat the olive oil over low temperature. Add leeks and cook until barely soft, about 10 minutes.
Pour in the broth, add diced potatoes, and bring to a boil over medium heat. Reduce to simmer and over and cook for 20 minutes. Test potatoes for tenderness.
Stir in fresh tarragon. Then using a food processor or blender, start to puree the mixture in small batches. Then return the soup to a saucepan over low heat.
Stir in Greek yogurt but do not raise the heat or it will curdle. Add salt and pepper to taste.
Sprinkle with fresh parmesan cheese and serve.
For Nutritional Facts on Leeks CLICK HERE
Comments
comments