"I Married a Nutritionist: Things I've Learned That Every GOLFER Should Know"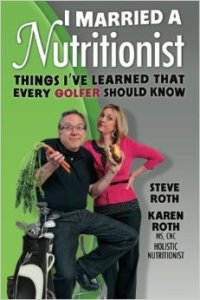 This book addresses pre-round, on-the-course, and post-round nutrition tips to help golfers improve their performance.  Golfers spend lots of time on the driving range, with coaches and buy the latest gear to improve their game but what is often overlooked is how proper nutrition affects performance. 
Here's what people are saying about the book:
 "This book is going in my golf bag!  Steve & Karen Roth make proper nutrition easy to understand and provide amazing tips golfers can use both on and off the course."   Kelly Kraft, 2011 U.S. Amateur Champion, Web.com Tour Player
"Steve and Karen Roth definitely have a pulse on how to package great nutrition information in a very digestible format!  This book is a must-read for every golfer out there!"  Damon Goddard, Founder & CEO AMPD Golf Fitness, Performance Coach for top-level professional golfers including Jordan Spieth (pictured above)
 "Finally!  A book that addresses nutrition for golf.  Steve and Karen Roth have done a huge service to the golf community."   Jini Cicero, CEO Jinifit, Inc., Strength Coach
 "Normally a book on nutrition would put me to sleep.  However, Steve and Karen delivered a book that makes the topic very easy to read and implement. Now, I just need to find the time to get back out on the course!"  Wayne Guymon, Vice President  Fox Sports San Diego

 "I Married a Nutritionist' hasn't lowered my handicap yet but I'm sure it has saved me a few strokes off the course!  Great book!"  Todd Greene, President and Founder of Headblade, Inc.
 "I Married a Nutritionist presents very important information that every golfer should know.  It's written in a unique style that cleverly compels the reader to want to learn it all."  Dr. Joseph Collins, ND, RN, CEO of YourHormones.com