Welcome to the WATER section of  Karen's Selections, a trusted list of healthy products personally approved of by Holistic Nutritionist Karen Roth.  In fact, these are products that we use!  Click on the picture to visit company website.

HINT  is a pure healthy lightly infused with natural flavors. Unsweetened. Lightly flavored. No Calories.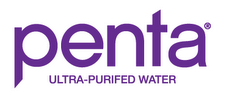 Penta Water uses a patented process to transform water molecules into stable micro-clusters of ultra-pure H2O that are absorbed more quickly into every cell for better hydration.