When planning a Thanksgiving Dinner, many cooks focus on the turkey and stuffing, perhaps the vegetable and potatoes. But when it comes to the cranberry sauce they default to the simplicity of opening a can.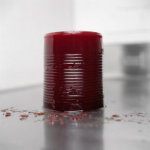 What the cook may not realize is that preparing a unique and delicious cranberry relish can make the cook the talk of the dinner table.
This year, why not treat your dinner guests to a fresher, more scrumptious and healthy version of that same of cranberry sauce?  After all, this is the peak of cranberry season!
"No Bake Cranberry Relish" is easy and quick to prepare, and gives you a fun new way to serve cranberries.  It's crunchy and fresh tangy taste will no doubt have everyone talking!
Cranberry Relish Ingredients:
12 oz fresh or frozen Cranberries
1 medium ORGANIC apple, chopped
1 ORGANIC medium pear, chopped
Half cup RAW honey
1 TBS horseradish
Directions:
Chop cranberries very fine. A food processor may be used
Chop the apple and pear into ½ inch cubes
Combine all ingredients and mix well
Serve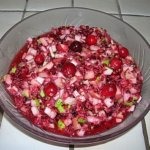 Recipe taken from The World's Healthiest Foods
Since pear and apples are heavily sprayed with pesticides, make sure and buy organic!
When choosing horseradish, choose pure horseradish made with only salt and/or vinegar as opposed to the commercial brands that contain harmful high fructose corn syrup. I like Gold's brand found at Whole Foods.
Benefits:
Since this is a raw recipe, there is no damage to nutrients from heat or processing.
Cranberries:
Everyone knows that cranberries help prevent urinary tract infection, but they can also prevent kidney stone formation and they also promote gastrointestinal and heart health. Cranberries are also low in calories, ½ cup is on 23 calories, and they contain 5 times the antioxidants of broccoli.  The phytonutrients found specifically in the cranberry can protect against macular degeneration and breast cancer.  According to a study published in Cancer Letter, cranberry phytonutrients can cause cancer cells to kill themselves off and shut down their ability to multiply.  And, if that isn't enough to make you thrilled to be enjoying cranberries this Thanksgiving, you'll be happy to know that drinking the juice, or eating the whole berry, benefits the heart because research has shown that the cranberry lowers LDL cholesterol while increasing the more beneficial HDL cholesterol.
Pear:
Packed full of antioxidants that prevent damage to cells, pears promote heart health.
Additionally, pears protect the oxidation of LDL cholesterol and lowers cholesterol.  Pears are also a good source of fiber and they promote digestive health, which may come in handy after a big Thanksgiving meal!  Oh, and pears are low in calories; one pear is 98 calories.
Apple:
Apples are also hearth healthy and contain two types of fiber; the insoluble fiber binds to LDL cholesterol and moves it out of the body while the soluble fiber lowers the production of LDL by the liver.  Apples also contain potent antioxidants such as Quercetin and Vitamin C. These prevent free-radical damage that promotes heart disease.
Oh, and the two fibers in apples relieve constipation, which can also follow a really big Thanksgiving meal!
Raw Honey:
Loaded with amylases, enzymes that help us digest carbohydrates. Raw honey doesn't upset blood sugar levels like table sugar does.
Horseradish:
When horseradish is cut it releases a strong chemical called allylisothiocyanate, which protects against food borne illness. It protects against Listeria, E. Coli, and Staphylococcus aureus.  Horseradish is also a cholagogue, an agent that increases bile thereby promoting a healthy gallbladder and improving digestion. Increasing bile production also helps us digest fats and oils.
So, as you can see, by serving No Bake Cranberry Relish you are giving your Thanksgiving guests a holiday gift… the gift of health!
Comments
comments