Garlic is one of the healthiest foods you can eat. Regular consumption of garlic has been shown to lower blood pressure, decrease triglycerides and LDL cholesterol, while elevating HDL cholesterol.
Garlic contains sulfur compounds than can reduce inflammation that may be contributing to arthritis or even asthma.
These same sulfur compounds act as an antibacterial and antiviral agent. Some even believe that regular consumption can ward off colds.
There was a cool study done using the phytonutrients found in garlic, allicin. Animals were divided into 3 groups and all given the same diet. The 2 groups receiving the allicin with their food, either maintained their weight or actually lost a little weight. While the group not given allicin, gained weight. So what a bonus!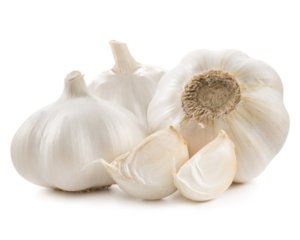 You can test for how fresh garlic is by giving the bulb a gently squeeze to test for firmness. You don't want to feel softness or dampness. You can store garlic for up to a month by keeping it in a cool dark place. Don't store in the refrigerator, as that will cause it to sprout and taste bitter.
But if it does sprout, that doesn't mean you have to throw it out.  You can still eat it; it will just have a slight bitter taste. Once you pull off a clove, the shelf life speeds up so try to use the rest within a couple of weeks.
You can add fresh pressed garlic to dips like hummus or guacamole. Stir it into mashed potatoes. I use minced garlic in all my stir fry dishes. And when I cook something in the crockpot, I toss in a few whole garlic cloves. Garlic just makes everything taste better and it's good for you!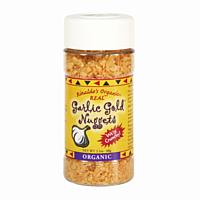 Garlic Gold is one of my favorite products. Keep reading for some great savings!
These delicious Nuggets are hand-made bits of toasted, sweet, mild and crunchy organic garlic. Use as a gourmet topping on anything, including salads, pizza, sushi, baked & mashed potatoes, popcorn, and pastas. I sprinkle the Southwest Nuggets in any Mexican meal I make. Garlic Gold nuggets make a great sodium free alternative to flavor all your meals.
Garlic Gold is 100% organic as is every ingredient in their entire product line.  Hint… they also have amazing flavored olive oils! Most all of the garlic is sourced from Gilroy CA and everything is bottled in a certified organic kitchen in Ventura CA.
Everyone loves pizza but seldom do we feel good about eating it. If you had plenty of vegetables and sprinkle it with garlic, you just might have a healthy pizza. Add a salad to it and you're all set!
Use the Garlic Gold nuggets instead of croutons on your salad for that extra crunch without the empty calories of croutons. Here's some photos of a recent meal at my house. Yum!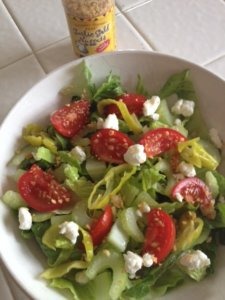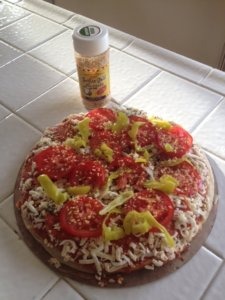 Mix and Match your favorite Garlic Gold® Nuggets at 20% off. When you buy six bottles of Garlic Gold® Nuggets, you'll receive 20% off all of them! They normally only offer this discount on a one-flavor case, so this is the perfect time to stock up on multiple flavors and get a great deal.*
*Limit 6. Offer expires 4-30-14
Their newest promotion — when you buy $60 or more in their online store, they will send you an engraved jar with spoon, perfect for displaying the Garlic Gold Nuggets in Oil. This is a $10.95 value! 
www.garlicgold.com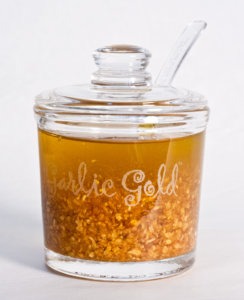 Imagine this drizzled over freshly steamed asparagus, or spread over bread and then toasted for the most amazing garlic bread!
Comments
comments