With summer on its way, ice cream will start to be a greater topic of conversation. There are all sorts of ice cream alternatives available, from fully loaded with sugar to fat-free and sugar-free, but you have to watch because all these alternatives can be not-so-healthy for you. All good intentions of cutting the calories with artificial sweeteners can actually be doing you more harm than good! First let's look at one of the main ingredients that makes for a healthy ice cream.
MONK FRUIT
You may find this surprising but the average American consumes three-pounds of sugar a week and 80% of that sugar intake is from hidden sources. All this excess sugar can lead to Insomnia, Headaches, Increase in Triglycerides and Weight Gain, among other issues.
You may have heard me discuss healthy sugar alternatives such as Stevia and Xylitol, but what about Monk Fruit? Just 1-gram of this alternative sweetener replaces 40-teaspoons of regular sugar! Pretty amazing! If you haven't heard about Monk Fruit, you're probably not alone, however it certainly is gaining more notoriety as time goes on.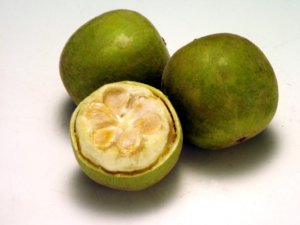 Monk Fruit is the sweetest melon in the world. Traditionally it's been cultivated in South East Asia, on steep forested mountainsides in small family orchards, so there hasn't been a lot of it around. According to legend, monk fruit is named after the Buddhist monks who first cultivated it nearly 800 years ago. Since that time, it has been used for certain health conditions such as obesity and diabetes as it stimulates insulin secretion.
Monk Fruit concentrate is around 200 times sweeter than sugar. Its incredible sweetness comes from naturally occurring antioxidants which have a pleasant sweet taste, but without the calories of sugar. Advertised as calorie free, it does have 3 calories per serving, but FDA regulations allow a calorie free claim if a product has 5 calories or less per serving.
You're going to start hearing a lot about this alternative sweetener as it makes its way onto store shelves in a variety of products including this week's Featured Product: Arctic Zero, a GUILT FREE ice cream that uses Monk Fruit for sweetener! Read to the end to learn how you can win a free pint of this delicious ice cream.
Who doesn't love ice cream? With summer around the corner, comes temptation to eat more than we know is good for us. That's where Arctic Zero comes in. It's a one-of-a-kind ice cream. An entire pint has only 150 calories. It's sweetened with a little organic cane sugar and Monk Fruit concentrate, leaving only 5 grams of sugar in a half-cup. Compare that to regular ice cream which has 250 calories per half-cup and 27 grams of sugar! That's almost 7 teaspoons of sugar! And, let's face it, who really eats just a half-cup?
Arctic Zero is also fat free, and contains fiber. Traditional ice cream can contain around 12 grams of fat. Arctic Zero is soy free, gluten free and lactose intolerant friendly. It's made with high quality whey protein, so it's not dairy free. Ingredients are Kosher as well as GMO Free. There's a flavor for everyone, and my favorite (if I could really choose one) is the Sea Salt Caramel. Cookies and Cream runs a close second place. Kids love it and it is safe for diabetics.
I compared Ben and Jerry's ice cream of Salt and Caramel to Arctic Zero's and I was surprised to find wheat flour in Ben & Jerry's! The numbers below reflect a half cup serving.
Ben and Jerry's Salted Caramel Ice Cream
Calories: 270
Total Fat: 15g
Cholesterol: 75mg
Sodium: 180mg
Sugars: 28g (7 teaspoons)
Cream, Skim Milk, Water, Liquid Sugar (Sugar, Water), Milk,Brown Sugar, Sugar, Corn Syrup, Wheat Four, Egg Yolks, Eggs, Butter (Cream, Salt), Butter oil, Pectin, Sea Salt, Soybean Oil, Vanilla Extract, Sodium Bicarbonate, SoyLecithin, Corn Starch, Monocalcium Phosphate, Salt, Sodium Acid Pyrophosphate, Guar Gum, Lactase, Carrageenan.
Arctic Zero Sea Salt Caramel
Calories: 36
Total Fat: 0g
Cholesterol: 10mg
Sodium: 135mg
Sugars: 5g (1 1/4 teaspoons)
Purified Water, Whey Protein Concentrate (Milk), Organic Cane Sugar, Chicory Root, Sugarcane Fiber, Guar Gum, Xanthan Gum, Natural Flavors, Dutch Processed Cocoa Powder with Alkali, Sea Salt, Monk Fruit Concentrate.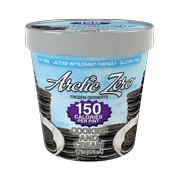 Comments
comments