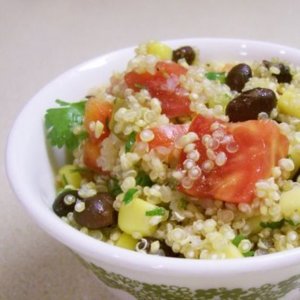 Quinoa is a perfect "grain" (it's actually a seed, but used as a grain) because it is a complete protein and easily digestible. It's gluten free, and very easy to prepare. Use it in place of rice or couscous for variety.  It doesn't matter if you buy "regular" or "red" quinoa, both are equally nutritious. Double this recipe and have it throughout the week.
Ingredients
3 TB Lemon juice 3 TB Olive Oil 3 TB Cilantro, minced Sea Salt, to taste Freshly ground pepper, to taste 1 C fresh or frozen ORGANIC corn ½ C Quinoa, rinsed well (before cooking) ½ tsp toasted cumin seeds or cumin powder (the powder is easier) 1 C cooked black beans (rinsed) 1 med tomato, diced 3 TB red onion, minced
Whisk together lemon juice, olive oil, cilantro, and salt and pepper to taste; set aside.
In a small saucepan, bring 1 1/2 cups of water to boil and add organic corn (most corn is genetically modified so always purchase organic).  Reduce heat and let corn simmer until tender.  Drain corn, reserving 1 cup of the cooking liquid.
Bring cooking liquid to a boil and add Quinoa (well rinsed before hand is a must) add cumin.  Cover, reducing heat, and let simmer until liquid is absorbed (10 – 15 minutes).  Remove pan from heat and leave undisturbed for five minutes.  Fluff Quinoa with a fork and allow to cool slightly.  In a bowl, combine cooled Quinoa, corn, black beans, tomato and onion.  Pour dressing over and toss gently to mix. Refrigerate salad until ready to serve.
For Nutrition Facts on Quinoa CLICK HERE
Comments
comments