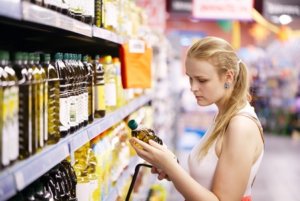 Do you find yourself having cravings for cookies or potato chips? Or, maybe it's bread or cheese? Maybe you are looking for the healthiest boxed risotto. You comb the aisles looking for the "least harmful product" but the ingredients are SO confusing. Wish you could have a magic wand to wave and tell you which product is the healthiest or at least less harmful to health?  Well the wait is over. Introducing an easy FREE tool to help you navigate the grocery aisle.
The Environmental Working Group has catalogued 80,000 (and counting) products and 5000 ingredients from 1500 brand names.
Foods are ranked on a scale of 1-10 with 1 being the best and 10 being the worst. Scores are based on three things:
Nutritional Value: calories, saturated fat, trans fat, sugar, sodium, protein, fiber and fruit, vegetal and nut content.
Ingredient Concerns: pesticides, hormones, antibiotics and food additives.
Processing: This score reflects the extent to which a food has been processed, including modification of individual ingredients from wholes foods and the number of artificial ingredients.
The goal is to choose products scored "green" (1-3.5) while limiting "yellow" (4-7) and avoiding "red" (8-10).
You can look up products you already purchase and if they score "yellow" or "red", you can simple search for "green" foods from the same family.
While you should aim for whole foods first, I know we often have to rely on boxed rice, canned tomatoes, frozen vegetables and protein bars, to name a few items. This cool tool lets you make the best decision for you and your family. And it's free!
And, in addition, you can sort by products that are GMO free and Gluten free.
To learn more on how to use this tool visit EWG Food Score site and watch the videos and get started!
Comments
comments